TWO TAX DEDUCTIONS MANY REAL ESTATE AGENTS MISS
With the tax return deadline closing in, here are a few, last-minute ideas for deductions that you may not have considered.
1. Home office deduction loophole
Sure, most agents who work from home are aware of this deduction. But did you know that if you also work from your broker's office you might still qualify for the deduction?
You'll need to meet "the principal place of business test" to qualify and you can find this test online at Investopedia.com.
In a nutshell, the office in which you perform recordkeeping and bookkeeping is typically considered your principal place of business. If you pay business-related bills from home, then your home office will likely be considered primary even if you also work from your broker's office.
---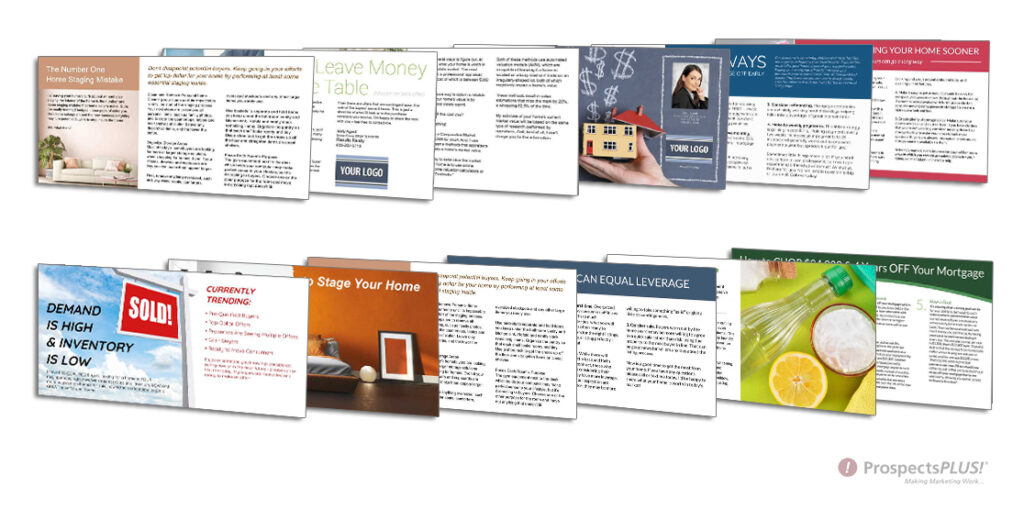 The Content Card Series is shown above. To learn more about sending a Content Card postcard, Click Here. To learn more about scheduling a recurring Content Card postcard campaign, Click Here.
---
2. It's time to put your kids to work
Even a younger child can be put to work in your home office. Dusting is actually fun for them. The older your child, the more tasks you can find for them:
Cleaning your signs
Mowing lawns, pulling weeds, and more at your vacant listings
Data entry into your CRM
Research
Cleaning your office
Filing
Helping to set up an open house
Shredding paperwork
Photocopying
Refilling the flier boxes at your listings
Stuffing envelopes
Addressing outgoing mail
"… you want to give them something that's reasonable for them to do based on their age, but also substantial enough to justify paying them a decent wage that's going to really make a difference on your return," suggests Kesha, CPA and tax coach and owner of The Millennial Taxpert.
It's completely legal to hire your children to do many tasks that are considered jobs by the IRS. "… when it comes to family-owned businesses, the Fair Labor Standards Act doesn't have an age limit or a maximum number of hours a child can work—it just prohibits hazardous jobs," according to Kenji Asakura, MD and Letizia Alto, MD at semiretiredmd.com.
You will find additional information about the home office deduction online at irs.gov.
The IRS also offers a thorough walkthrough about hiring your children. 
We recommend that you run these tax deduction strategies by your tax preparer or accountant.
Disclaimer: The aforementioned information is for general informational purposes only. We are not financial or tax professionals and urge you to seek the services of a licensed tax professional.
---
PLUS: When you have time…below are some marketing tools to help support your success.
1. Put Your Real Estate Business a Step Above with Your Own Branded Magazine
Homes & Life Magazine is a customizable magazine, with rich, full-color content, and a sharp, professional esthetic. It includes compelling, direct response-driven articles written by real estate industry experts, combined with engaging lifestyle content. Send out Homes & Life Magazine in Just Minutes – No Minimums Required. Or we'll ship it to you.
Homes & Life Magazine is the ultimate "Coffee Table Lingerer"! …and, it costs less than sending a greeting card! – Click Here

2. The Free 12 Month Done-For-You Strategic Marketing Plan
The Real Estate Marketing Planner is a powerful 12-Month-Guide that strategically defines what marketing to do when. Four key market segments are included, niche Markets, geographic farming, sphere of influence, and past clients. – Click Here
3. The BusinessBase, SOI building system
The most effective thing you can do to build a real estate business is to become more visible, more likable, and remembered more often. The BusinessBASE™ not only checks all of these boxes, but it is a business building machine. In two easy steps, you can begin to build a robust sphere of influence that will provide you a lifetime of repeat business and referrals. – Click Here
4. The Free Interactive Real Estate Business Plan
The Free Interactive Real Estate Business Plan allows you to enter your business goals for this year and get a breakdown of how many prospects, listings, closing, and so on are needed to reach your goals.  – Click Here
5. The Become a Listing Legend Free eBook 
Ready to take a vertical leap in your real estate career? If you're looking for inspiration…and the tools and methods to dominate a market and go to the top in real estate…you'll find them in this free book. – Click Here
6. The Take a Listing Today Podcast
Watch the ProspectsPLUS!, Take a Listing Today Podcast for actionable content to help you get more listings. – Click Here